Technical Advice
Australia is one of the most intensive mining countries in the world. Massive equipment manufactured overseas and also in Australia must be brought ashore from ships and then delivered overland to mining sites.
The handling and transport challenges are routinely brought to Shannon who assists with recommendations for methods and equipment and the design of heavy lift beams and slinging systems.

Writing Specifications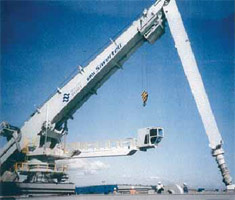 Writing new and updating existing specifi cations is a task that is always tackled with insight. Shannon aim is to provide a description of what the client requires that will ensure the client gets what they need without disagreements, misunderstandings or claims for extra payments.
Upgrading
Container cranes designed in USA and Australia have had their lifting capacity increased. The design work was specified and supervised by Shannon. Other cranes designed in both USA and Australia were raised to increase the airdraft by a German contractor with design verification by Shannon.
Structural Failures
Shannon services include investigation of incidents including unexpected structural failures.
Advanced Technology

Design Certification
Shannon engineers carries out design certification equipment of all types